Update: Deadline extended to Oct 31

NEVP Circular – JCIP 2017 – 2 – 019
  Call for Support & The Approved JCIPEA points for TOFARM
To:       2017 JCIP National Board / 2017 LO Presidents
From:  Office of the National Executive Vice President
Date:   August 16, 2017 (Wednesday)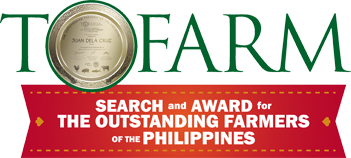 Greetings from the TOFARM Committee and our sponsor Universal Harvester Inc.!
This year, as part of the initiatives to advance young individuals and other organization in the agriculture sector, we are reviving the partnership of JCI Philippines and Universal Harvester Inc., for the 2017 search and award for "The Outstanding Farmers of the Philippines or TOFARM. The goal is to foster steady increase of youth venturing in the agriculture sector, invigorating investment and scientific advancement to achieve sustainable food supply;
The search and award for farmers is an initiative since the early 70's by the Philippine Jaycees (now JCI Philippines) as an award program in recognition of the resiliency, ingenuity, and the strength of our hard working Filipino farmers. The search will be inclusive and participative, expanding from public to private sector stakeholders in agriculture, fisheries and livestocks. This project is open to all Filipino farmers, fisherfolk, animal raisers, cooperatives, farm communities, organizations, education/academe, agriculture scientist, LGUs and public employees, and business entities in both rural and urban areas/centers. Winners and their work of life shall be published in our website to share the knowledge and best practices in agriculture so we may imitate.  Please visit www.tofarm.org for more details.
Five (5) PEA points for each valid "nomination/entry" made by a JCI Local Organization. Maximum of six (6) nomination or thirty (30) points;
We will be having Agriculture Champion Awards.
a.)   TOP AREA VICE PRESIDENT – (1 WINNER) – for most valid nomination submitted for his/her AREA.
b.)   TOP REGIONAL VICE PRESIDENT – (3 WINNERS) – most numbers of finalist for his/her REGION.
c.)    TOP LOCAL ORGANIZATION – (3 WINNERS) – most number of finalist they've been nominated.
Download the search and award manual and nomination form to understand more of the mechanics. An online nomination is also provided through our website for convenience. Acceptance of nomination shall start on August 1 and ends September 30, 2017. Everyone is encouraged to contact us should you need more information.
Suportahan po natin ang isang napaka-makabuluhan at napapanahon na proyektong ito para sa mga magsasaka.
You may contact me at +63917-8865270 | arvinbiyoy@yahoo.com for any inquiries.
ARVIN YU VILLA (original signed)
2017 National Chairman for The Outstanding Farmers of the Philippines
JCI Philippines
KEN DERRICK S. NGO (original signed)
2017 National Executive Vice President
JCI Philippines
MARK JOSEPH N. DAVID (original signed)
2017 National Secretary General
JCI Philippines
HEGEM C. FURIGAY (original signed)
2017 National President
JCI Philippines
TOFARM 2017 Mechanics and Nomination Form