NEVP Circular – JCIP 2017 – 2 – 022
  2ND JCI PHILIPPINES NATIONAL DEBATE CHAMPIONSHIPS
To:       2017 JCIP National Board / 2017 LO Presidents
From:  Office of the National Executive Vice President
Date:   September 7, 2017 (Thursday)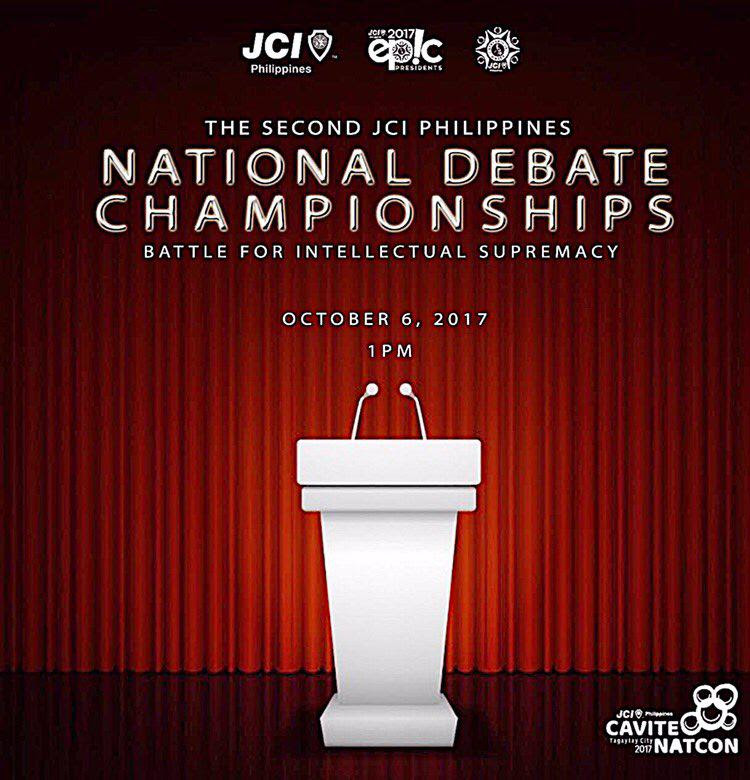 We would like to invite all interested Local Chapters to send their respective DEBATE TEAMS for the 2nd JCI Philippines National Debate Championships: Battle for Intellectual Supremacy to be held October 6, 1pm during that JCIP National Convention in Tagaytay.
The following are the basic mechanics:
1. Create teams of 3 members per debate team. (Cross-chapter team-ups are allowed)
2. The topics of the debates will be given 5 days before the tournament.
3. DEADLINE FOR THE SUBMISSION OF TEAMS: SEPTEMBER 30, 2017
These are the general rules:
The competition shall follow a MODIFIED ASIANS PARLIAMENTARY format. Attached as Annex A to this memo is a brief guide to the fundamentals of AP for your perusal and reference.
a. Speakers will have 5 minutes each speaking time.
b. Points of Information (POI) may be given following the rules of giving POIs (please see attached)
c. After the debate, there will be an oral adjudication given by the Chief Adjudicator of the round.
d. Depending on the number of teams, there will be at least 3 PRELIMINARY ROUNDS of debate and the TOP 2 teams will be advancing to the FINALS ROUND based on the Win-Loss record and Speaker Scores from the 3 preliminary rounds.
For questions and registration, kindly contact the JCIP National Debate Chairman at 09178548880.
Thank you very much.
Yours in JCI,
ROLAN MARCO GARCIA (original signed)
2017 National Chairman for Debate
KEN DERRICK S. NGO (original signed)
2017 National Executive Vice President
JCI Philippines
MARK JOSEPH N. DAVID (original signed)
2017 National Secretary General
JCI Philippines
HEGEM C. FURIGAY (original signed)
2017 National President
JCI Philippines