We will continuously update this page for reminders to the Philippine delegation for the upcoming JCI World Congress.
For any questions, please coordinate with the National Chairman – Onto 2017 World Congress, Atty. MARIEL JOSINE DAVID, JCI Paranaque Asinderas (Email: Marielndavid@yahoo.com, Mobile: +63915-3509719).
Please see the sections on Attire and Volunteers!
—–
Re: World Congress JCIP Jackets and shirts
Oct 29, 2017
All shirts are available for pick up Oct 30 (tomorrow afternoon) at my ofc.
Pal Maritime Corp
404 Prestige Tower
Emerald Ave/F. Ortigas Jr Ave
Ortigas Center Pasig
All pins will be available on Tuesday.
Jacket availability will be advised Oct 30 (tomorrow lunchtime)
(JCIP is closed tom untl wed)
Unclaimed jackets/shirts by Oct 31 (Tuesday) will be distributed on thurs/fri at JCIP HQ.
Unclaimed shirts will not be brought to Amsterdam.
For the jackets, if you have left/about to leave and your size is not available yet, pls inform me so I can arrange for you to claim it in Amsterdam. If you don't, you will have to claim your jacket when you return.
Bagtags will be distributed in Amsterdam (opening night)
Lastly, pls bring 1 bottle of Ph alcohol. Thanks and goodnight JCIP.
——
Excursions and Optional trips
Oct 30, 2017
Only a few days left before the 2017 JCI World Congress!
≫ It is possible to book all Company Visits and external excursions via this link: http://bit.ly/JCIWC2017_Cvent.
≫ You can find our complete program here: http://bit.ly/JCIWC2017_Day_By_Day
≫ If you're looking for some extra sightseeing we now offer the opportunity to book your leisure activities. You will find these in the shop which you will find here https://www.jciwc2017.com/shop/. The activities are not part of the regular 2017 JCI World Congress program, so these items will also host guests that have booked regular stays in The Netherlands.
—–
Viber group – World Congress Amsterdam
For the latest info, be sure to check the Viber Group, "World Congress Amsterdam."
If you are not part of the group yet, please coordinate with the National Chairman – Onto 2017 World Congress, Atty. MARIEL JOSINE DAVID, JCI Paranaque Asinderas (Email: Marielndavid@yahoo.com, Mobile: +63915-3509719).
PH Delegates World Con Merchandise
All Philippine delegates registered to the World Congress will get the ff:
Jacket
JCIP World Congress 2017 Collared Shirt
JCI Philippines Pin
Please stay tuned for the distribution schedule and venue.
Attire
Opening Night (Nov 6)

IMPORTANT: there is usually a part of the program where the delegates from each country will be called to the stage with the Chief Delegate.  This is a wonderful opportunity to have an official Group Shot.
Dress to impress
Men: Barong
Women: Filipiniana (National Costume)

General Assembly – Elections – Nov 8 

JCIP World Congress 2017 Collared Shirt

Global Village (Nov 8)

JCI Philippines will have a booth for the Global Village.  We will distribute souvenirs and alcohol.
Men: Barong with slacks
Women: Female Barong with skirt or slacks
We request that each delegate bring one bottle of Philippine Liquor/magnets: lambanog, Don Papa, or Emperador
Please contact NC Mariel if you want to bring anything you wish to give out.  So far, the booth will give out PH magnest, JCI round pins.

Presidential Inaguration and Farewell Ball – Nov 10

Men: Suit and tie
Women: Long gown, cocktail dress
IMPORTANT: This is the event where NP Brian Lim will be inagurated as the 2018 JCI President.  Please don't miss this!  Usually, the organizers will release the Gala tickets during registration.
Volunteers Needed
Volunteers are needed for the campaign of JCI EVP Brian Lim for the position of 2018 JCI President and the Global Village booth manning.
To help with NP Brian Lim's campaign, feel free to contact Sen. Beep Tan.  For the Global Village Booth, contact NC Mariel.
Day-to-Day Activities
To see the Day-to-Day Activities, visit
Here is a copy of the circular released last June on the World Congress.
NSG Circular – JCIP 2017 – 4 – 012
  JCI WORLD CONGRESS – AMSTERDAM
To:       2017 JCIP National Board / 2017 LO Presidents
From:  Office of the National Secretary General
Date:   June 30, 2017 (Friday)
Greetings from JCI Philippines!
Every November, members from across the globe come together for the peak of the JCI year at JCI World Congress. At this global forum international officers will be elected for the upcoming year. JCI Members also explore ideas for international initiatives and recognize the achievements of outstanding active citizens. With JCI in more than 100 countries and territories, members have the opportunity to meet fellow citizens from highly diverse backgrounds. JCI Members will share experiences and find new ways to create positive change on both local and global levels. At this event, JCI's critical mass of young people will unite to magnify the positive impact of the JCI movement.
We invite you to join us for a week packed with content, action and impact.
The 2017 JCI World Congress in the Netherlands will be an event people such as active members, senators, alumni, and even non-members would love to be a part of. The world class speakers, the fantastic company visits, the famous Dutch parties, and specifically for the WE DO program are more than enough to entice everyone to join the fun in Amsterdam.
This year, JCI Netherlands will be hosting the World Congress on November 6-10, 2017.
For more info on the event, kindly visit their website: https://www.jciwc2017.com/
The National Organization would like to encourage each and every member to join us and experience JCI in a whole new level.
By joining the World Congress, you will meet new friends from all over the JCI community, see old friends as well, learn from various programs and trainings and explore the culture and history of the host country, The Netherlands.
Please see below details of our National Chairman for the 2017 World Congress, you may contact her directly for any inquiries regarding the event.
Please find below general info on the upcoming World Congress in the Netherlands.
PROGRAM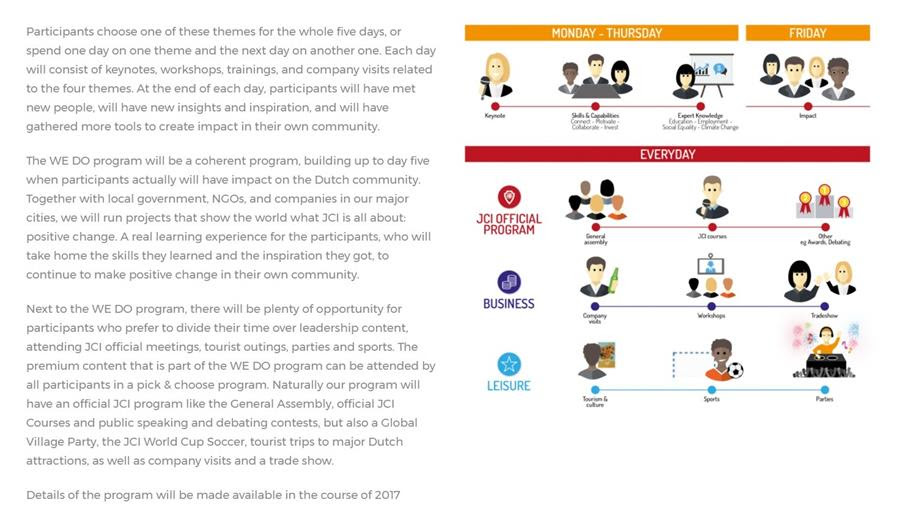 FLIGHTS FROM MANILA TO AMSTERDAM
VISA INFORMATION 
Visa is required for Filipinos travelling to the Netherlands, please see below info on how and where to file your visas.
WHERE: Visa applications for the Netherlands are handled by VFS.GLOBAL, below link will directly bring you to the site where you can find the step by step of your visa application.
http://www.vfsglobal.com/netherlands/philippines/business.html
VISA FEE: PHP 4,630.00 (Visa fee & VFS Global service Fee)
INVITATION LETTER: The COC (Congress Organizing Committee) will send you a (digital) invitation letter upon request (visa@jciwc2017.com) after the registration for the congress.
The COC needs the following information from the delegate to lodge the invitation letter:
·        Registration number
·        Proof of payment of the congress fee
·        Exact names, address, Postal Code or G.P.O. and email to send the invitation letter
Note: Please email NC Mariel of the above details in order to request/follow-up with the COC.
THE NETHERLANDS
Please do not hesitate to contact your Onto World Congress 2017 team for any inquiries.
We are very excited for this year's world congress and we are hoping to see you all there!
Thank you.
MARIEL JOSINE N. DAVID (original signed)
2017 National Chairman – Onto JCI 2017 World Congress
JCI Philippines

MARK JOSEPH N. DAVID (original signed)
2017 National Secretary General
JCI Philippines

HEGEM C. FURIGAY (original signed)
2017 National President
JCI Philippines